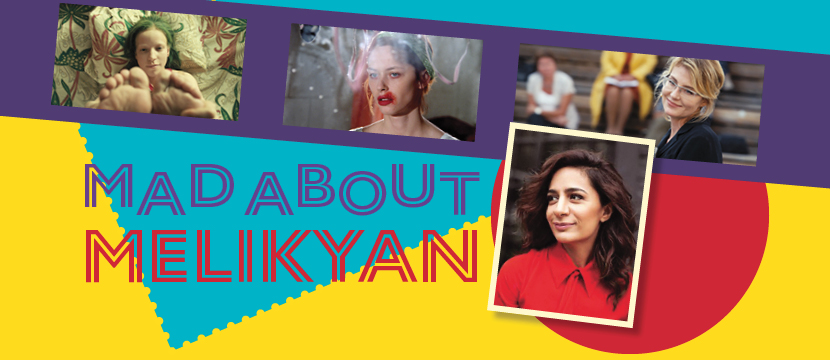 Born in Baku and growing up in Armenia, Anna Melikyan (Анна Меликян) is a writer, director and producer. She moved to Moscow to attend film school and she graduated from the Russian State University of Cinematography at VKIG in 2002; her student short films Adante, Let's Fly, Poste Restante and Double Bass won prizes at more than 40 international festivals and have been acquired by film museums in both Rome and Melbourne.
She directed her first feature film in 2004 called Mars (Марс) which premiered at the Berlin Film Festival; however it was her follow-up film, Mermaid (Русалка) which won her widespread acclaim, landing her Best Director at the Sundance Film Festival in 2007 and propelling her into Variety's Top 10 Directors to Watch. The film was nominated for Best Foreign Film at the Academy Awards.
Drawing cleverly on the myth of Cinderella, her 2014 film, Star (Звезда) is a sharp and funny anti-fairy-tale story, which won her Best Director at Kinotavr; and two years later, she won Best Film at both the Russian Golden Eagle Awards and the Sochi Film Festival for her relationship comedy, About Love (Про Любовь).
She produced and part-directed the follow up About Love 2 (Про Любовь 2) in 2017 and is currently in post-production with her latest film, Fairy.
As Variety has noted, Melikyan possesses an astonishing combination of creative ingenuity and technical expertise, but it's her ability to tell universal stories with a remarkable playfulness that marks her out as a true original. She also works brilliantly with actors and very often moulds her stories around talent that she admires. It seems entirely fitting then that we celebrate her career to date at Subtitle and look forward to welcoming her to Kilkenny.
Filmography

Fairy (work in progress)
I am going to you (short, 2017)
About Love 2 (2017)
8 (short, 2015)
About Love (2015)
Star (2014)
A Mood Like That, Bach's Adagio and Several Episodes from the Life of the Girl Lena (short, 2014)
About Love 2 (short, 2013)
About Love (short, 2012)
Mermaid (2007)
Mars (2004)
Double Bass (short, 2002
Poste Restante (short, 2001)
Let's Fly (short, 1999)
Andante (short, 1998)
In this Strand:
Loosely based on Hans Christian Anderson's fairytale, Anna Melikyan burst on the scene with this coming-of-age picture in 2007 which won her Best Director at the Sundance Film Festival. The main character, Alisa lives partially in an imaginary world and partially in the real world where she believes that she can make her wishes magically come true. She must reconcile this belief with reality when, as a young woman, she journeys to Moscow and grapples with love, modernity and materialism. This modern variation on the fairytale is a fanastic piece of film-making and features a strikingly pursuasive performance from Masha Shalaeva in the title role.

This is a wonderful modern tragicomedy about destiny as seen through the interweaving lives of its three central characters: Masha, Kostya and Margarita. The inscrutability of love and the events that drive our fate provide the driving force of this clever and funny film, which won Melikyan Best Director at the Sochi Film Festival; it also unearthed a young star in Georgian actress, Tina Dalakishvili.

Another extremely classy instalment, which won Best Film at the both the Golden Eagles Awards and Kinotavr Film Festival, About Love is an almanac of contemporary romantic stories set in a bustling Moscow, brought together by a university lecture about love. As with all of her films the screen fizzes with energy and a shrewd intelligence. The cream of Russian acting talent is on display, including an hilarious cameo by Yuri Kolokolnikov.